Biography - Nikolo Balkanski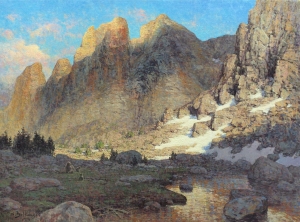 NIKOLO BALKANSKI, SAI Nikolo Balkanski studied fine art in Bulgaria and Finland and exhibited his first one-man show at age twenty-one. He built a strong following in Europe as a master of portraiture and landscapes, with major exhibitions in Bulgaria, Finland, Sweden, England, France, and the United States. He is highly regarded as an inspirational teacher and mentor. Balkanski's work has been exhibited with Artists of America, the Colorado Governor's Invitational where he received the Collector's Choice Award in 1999, Great American Artists, Buffalo Bill Art Show & Sale,(Artist's Choice Award 2007), Artists of the West, Bradford Brinton Museum, Arts for the Parks where he won Best Landscape in 1995.
Nikolo's artwork currently is represented by Evergreen Fine Art Gallery, Colorado, Knox Galleries, Denver, Beaver Creek, CO, Harbor Springs, Michigan, Mary Williams Fine Arts, Boulder, CO, Spirits in the Wind Gallery, Golden, CO and Weatherburn Gallery, Naples, Florida.
Selected Art Exhibitions in US
American Collectors Invitational, Scottsdale, Arizona
American Miniatures Show, Tucson, Arizona
American Traditionalist Art Group
American Marine Legacy, Carmel, California
Art Fest, Fort Collins, Colorado
Art for the Mountain Community, Evergreen, Colorado
Art of the West, Great Falls, Montana
Artists of the West, Colorado Springs, Colorado
Artists of America, Denver, Colorado
Biennial Brinton Invitational, Big Horn, Wyoming
Buffalo Bill Art Show & Sale, Cody, Wyoming
C.M.Russell Auction of Western Art, Great Falls, Montana
Colorado Governor's Invitational, Loveland, Colorado
Colorado Opera Festival Art Show & Sale
Columbia River Art Expo, Richland, Washington
Coors Western Exhibit & Sale, Denver, Colorado
Denver Art Review, Denver, Colorado
Great American Artists, Cincinnati, Ohio
Great American Landscape, Carmel, California
Impressions of the Southwest, Pueblo, Colorado
Masters in Miniature, Great Falls, Montana
Plain Air, Denver, Colorado
Representing the West, Pueblo, Colorado
Richard Schmid Fine Art Auction, Fort Collins, Colorado
Rocky Mountain PBS Art Auction, Denver, Colorado
Salon d'Arts, Denver, Colorado
Society of American Impressionists, Naples, Florida
Spirit of the Great Plains, Kearney, Nebraska
The Museum of Western Art, Kerrville, Texas
We Love Evergreen, Evergereen, Colorado
Selected Publications
"Expressing the Visual Language of the Landscape" International Artist Publishing Inc. 2002
"Painting the Landscape" Southwest Art, June 2001
"Selling more or selling out" International Artist, Feb/March.2000
"Composing with Water" The Artist Magazine. Oct.1998
"Put it in Print" U.S.Art, April 1995
"Arts Review", London 1983